Every family we work with has a unique story that we are honored to be part of, and sometimes share with others. Finance of America Mortgage Advisor Stacy Fiedelman (NMLS 2019016) had the pleasure of working with Betha and her son Jadis through their year-long journey to homeownership. 
Two years ago, Betha's husband, a veteran of the Royal Airforce, passed away. They made a move back to Betha's home state of Texas, as they navigated the rough waters of life without their beloved Husband and Father. They rented an apartment with the goal of owning their own home as quickly as possible. 
Their journey through home buying has not been easy. Betha and Jadis found themselves under contract to purchase two different homes. Those deals fell through, neither house was a great fit, and there were inspection issues. There are so many factors to consider when buying a home and so many variables. Without an experienced and driven team working for you, you can find yourself at a great disadvantage to get all the way to the closing table. 
After getting in touch with our Loan Officer, Stacy, Betha and Jadis found a home fairly quickly that worked well for them. Stacy worked diligently behind the scenes to help Betha and Jadis secure this home and its financing. Thankfully, Stacy was able to consider many loan options for this very deserving family. Betha qualified for the Nightingale Advantage in addition to her great loan, in honor of her late husband's military service, which allowed her to cover most of her closing costs and finally secure a special home for her and her son. 
People like Betha and Jadis, working so hard to own their own home are why we love what we do in the mortgage industry. Giving back to those who give so much is the original inspiration for creating the Nightingale Advantage as well. In this case, not only was Stacy able to make the process easier for Betha and Jadis, but continue to honor her late husband's military service, by easing her financial burden with a credit towards her loan amount through Nightingale Advantage.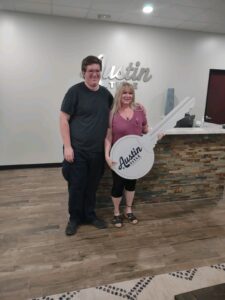 If you work in healthcare, as a first responder, or the military, (active, retired, or direct relation) – we would love to honor your family with not only an expert team that is working hard to make your home ownership dreams a reality, but the ability to reduce your financial burden through our incredible give back with the Nightingale Advantage. Reach out today to learn more and start your journey by purchasing a home of your very own.
To learn more about the Nightingale Advantage loan option from Finance of America Mortgage, please contact us today for a no-obligation conversation about your home loan needs. The Nightingale Advantage is available for new and refinanced home loans. For more details, please visit our Website and read our Terms and Conditions.
_________________________________
*This is not a commitment to lend. Prices, guidelines and minimum requirements are subject to change without notice. Some products may not be available in all states. Subject to review of credit and/or collateral; not all applicants will qualify for financing. It is important to make an informed decision when selecting and using a loan product; make sure to compare loan types when making a financing decision. Please refer to the Nightingale Advantage when speaking to your Finance of America Mortgage loan officer at the time of your loan application. Only applicable for loans that close by 12/31/2025. Lender credit amounts up to $7,500 and cannot exceed actual closing costs. Escrow and prepaids excluded. May not be available on all loan products and transaction types. Speak with Finance of America Mortgage for additional information on loan procedure, process, inclusions and more.