The weekend of July 4th was a special one for Nightingale Advantage. On the evening of July 1st, we celebrated the end of the week and Independence Day by hosting over 100 Colorado Healthcare Professionals for the Rocky Mountain Vibes baseball game in Colorado Springs, CO! 
Finance of America Mortgage, in partnership with Rx Realty, reserved a special terrace area with catered food and drinks and a great view of the game. The Vibes went on to win the game 4-3, and the cherry-on-top was closing out the night with a fantastic fireworks show.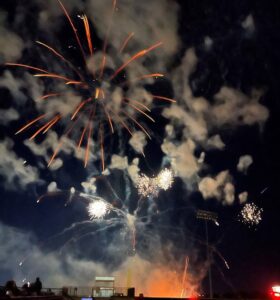 It was our honor and pleasure to mingle with Nightingale Advantage loan offers, beloved staff, and most importantly those who serve our community so selflessly by working in Healthcare! Getting to know them and their families for a night of relaxing and fun was a highlight of the year for all of us at Finance of America Mortgage!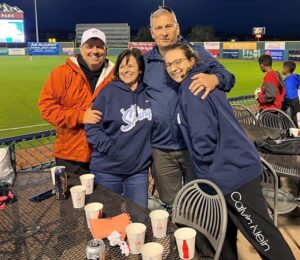 This is the second year in a row that we have been able to host our healthcare heroes and treat them to a night out at a baseball game. We are planning to make this a tradition for a long time to come! 
The Nightingale Advantage loan option was created as a genuine way to give back to the healthcare community as a way of displaying our gratitude to those who work in Healthcare, as First Responders, and Active Duty or Veteran Military. We are always looking for ways to partner with our community to give back to those who give! The Nightingale Advantage is more than just a loan option, it's a way to make what is likely the largest purchase of your lifetime, an exciting experience that you can feel confident about and know you're getting a dedicated team of experts in the mortgage industry, backed by one of the best Mortgage companies in the nation. And we haven't even mentioned the credits you receive back at closing that can help with your down payment or buy down your interest rate on your loan!*
We look forward to creating more community events to not only share the Nightingale Advantage with anyone who might be interested in a great home loan option, but to support and champion the Helpers in our community. We love to provide fun and meaningful opportunities for Healthcare workers, First Responders, and Military families to make priceless memories.  
To learn more about the Nightingale Advantage loan option from Finance of America Mortgage, please contact us today for a no-obligation conversation about your home loan needs. The Nightingale Advantage is available for new and refinanced home loans. For more details, please visit our Website and read our Terms and Conditions. 
_________________________________
*This is not a commitment to lend. Prices, guidelines and minimum requirements are subject to change without notice. Some products may not be available in all states. Subject to review of credit and/or collateral; not all applicants will qualify for financing. It is important to make an informed decision when selecting and using a loan product; make sure to compare loan types when making a financing decision. Please refer to the Nightingale Advantage when speaking to your Finance of America Mortgage loan officer at the time of your loan application. Only applicable for loans that close by 12/31/2025. Lender credit amounts up to $7,500 and cannot exceed actual closing costs. Escrow and prepaids excluded. May not be available on all loan products and transaction types. Speak with Finance of America Mortgage for additional information on loan procedure, process, inclusions and more.