June was a special month for us here at MasonMac in Englewood, Co. We had the great privilege of visiting Denver Fire Station 2  and getting to know some fierce men and women who have dedicated their careers, and sometimes even their lives, to protect the citizens of Denver in dangerous situations. 
We were able to tour their beautiful firehouse and learn more about their daily lives at the fire station. We received demonstrations on all of the tools and equipment used to not just fight house fires, but large structures, grass fires and more.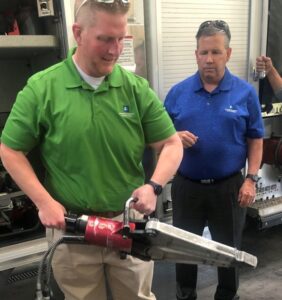 Young or old, who doesn't love getting to sit in a fire truck! We enjoyed learning about their Emergency Response vehicles and how they prepare for calls, and so much more. It was a humbling experience to learn and witness what our city's Firefighters prepare for on a daily basis to remain vigilant and ready to jump into action at a moment's notice.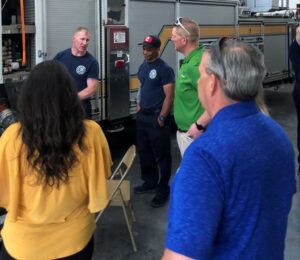 Throughout our entire visit, it was extremely obvious that the level of commitment that these men and women have to each other and to the communities they serve is unparalleled. The passion and love they have for their job is unmistakable. Being a first responder is one of the most sacrificial callings one could choose for a career, and we are so honored they made time in their busy schedules to share their lives with us, and allow us an up-close view of their passion and commitment. 
We were inspired by the stories and the people at Denver Firestation 2, and visiting them "on the job" was a truly incredible experience. We want to thank Chief Tate and all of the incredible people at Station 2 for their hospitality and their selfless service to the Denver community! 
The Nightingale Advantage loan option was created as a genuine way to give back to the First Responder community as a way of displaying our gratitude to those who work in Healthcare, as First Responders, and Active Duty or Veteran Military. We are always looking for ways to partner with our community to give back to those who give! The Nightingale Advantage is more than just a loan option, it's a way to make what is likely the largest purchase of your lifetime, an exciting experience that you can feel confident about and know you're getting a dedicated team of experts in the mortgage industry, backed by one of the best Mortgage companies in the nation. And we haven't even mentioned the credits you receive back at closing that can help with your down payment or buy down your interest rate on your loan!*
We look forward to creating more community events to not only share the Nightingale Advantage with anyone who might be interested in a great home loan option. but to support and champion the Helpers in our community. We love to provide fun and meaningful opportunities for Healthcare workers, First Responders, and Military families to make priceless memories.  
To learn more about the Nightingale Advantage loan option from MasonMac, please contact us today for a no-obligation conversation about your home loan needs. The Nightingale Advantage is available for new and refinanced home loans. For more details, please visit our Website and read our Terms and Conditions.
_________________________________
*This is not a commitment to lend. Prices, guidelines and minimum requirements are subject to change without notice. Some products may not be available in all states. Subject to review of credit and/or collateral; not all applicants will qualify for financing. It is important to make an informed decision when selecting and using a loan product; make sure to compare loan types when making a financing decision. Please refer to the Nightingale Advantage when speaking to your MasonMac loan officer at the time of your loan application. Only applicable for loans that close by 12/31/2025. Lender credit amounts up to $7,500 and cannot exceed actual closing costs. Escrow and prepaids excluded. May not be available on all loan products and transaction types. Speak with MasonMac for additional information on loan procedure, process, inclusions and more.