We have meetings in coffee shops all around town. With offices and places of business starting to slowly open back up to in-person services, we're anxious to get back into our community and give back.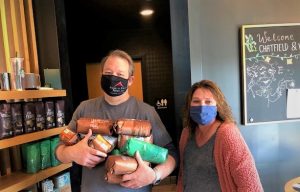 Nightingale Loan Executive and program administrator, Mark Burnett, was visiting a local Starbucks and was so happy to see they are volunteering to support our healthcare workers! Mark saw the sparse basket of coffee donations, and decided not only was this a donation drive we should promote, but purchased 20lbs. of coffee to add to the basket himself on behalf of the American Dream Mortgage Nightingale Advantage Program!
Our Nightingale Loan executives work on loans in their home towns, communities they love and live in, and it's not just a business motto, it's a true desire to give back.
Here are the details of the drive from Starbucks:
Community Coffee Drive to Benefit St. Anthony Hospital Essential Healthcare Workers!

This has been an incredibly challenging year for our community, particularly for those working and volunteering in healthcare.  In an effort to acknowledge and celebrate these essential workers, many of which are unsung heroes, serving their community every day in critical areas of the hospital such as housekeeping, food services, volunteers, EMS first responders, and others, this Starbucks location has adopted St. Anthony Hospital healthcare workers and volunteers as the beneficiary of our new "Coffee Drive."

How can you help?

Help us show appreciation to these amazing and deserving members of our Jeffco community – Purchase 1-pound of coffee and place in the basket below to donate.  St. Anthony Hospital will then distribute the donations to staff members and volunteers in honor of your generous donations!

Donations will be accepted through April 10, 2021.

Thank you so much,

Your Starbucks Partners at Chatfield and Wadsworth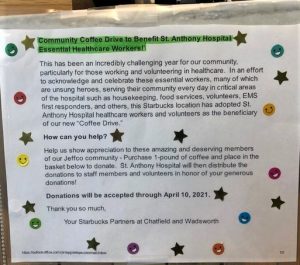 If you're interested in giving back, but can't get out to this particular Starbucks, give us a call or shoot us an email, we'll help make it happen. They are accepting donations for St. Anthony's Hospital for a limited time!